AI and healthcare, deeper look at Med Palm II, Mid journey and Chatgpt in healthcare
Artificial Intelligence (AI) is revolutionizing healthcare, transforming everything from diagnosis to treatment planning. This talk aims to delve into this exciting frontier, with a specific focus on Med Palm II, a cutting-edge AI application, and the role of ChatGPT in healthcare.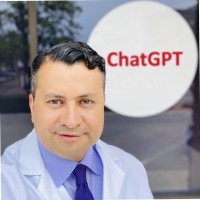 Author of ChatGPT Healthcare
As a physician, healthcare consultant, and serial entrepreneur, my career has promoted digital health awareness and instigated positive changes. My journey spans various roles, including serving as a CEO, practicing physician, and medical correspondent for major media outlets (Fox News, NBC, and Telemundo). I am known for my innovative thinking and proven track record in creating impactful healthcare solutions. This includes developing several healthcare apps and consulting for numerous healthcare organizations. My written contributions are multiple, appearing in medical publications and my books. I am the author of the book series "Chat GPT Healthcare," available on Amazon. These volumes encapsulate my rich insights and experiences within the healthcare industry, providing practical guidance for aspiring professionals. My plans involve joining a corporate board where I can lend my expertise to support the growth and success of the organization. As an international public speaker, I've had the opportunity to share my knowledge at various prestigious events, including: Keynote Speaker at the Healthcare Information and Management Systems Society (HIMSS) Speaker at AI MED Speaker at various conferences in Germany and Australia Through my work, I strive to inspire and assist individuals and organizations in their journey to succeed in healthcare and digital health. I believe in the power of reinvention and invite you to join me on this journey. Please visit my website for more information about my work and how you can get involved. This summary integrates your extensive experience, achievements as a healthcare professional and entrepreneur, writing accomplishments, and ambition to join a corporate board. It acknowledges your keynote and other speaking engagements and invites readers to join you in your mission to innovate and succeed in digital health.