NLP in Oncology Real World Data: Opportunities to develop a true learning healthcare system
CancerLinQ, a learning health system product of the American Society for Clinical Oncology (ASCO), provides subscribing practices with innovative analytic tools to enable them to improve quality of care to cancer patients using Real World Data (RWD).
It does this by extracting structured data from Electronic Health Records (EHRs) and creating a standards-based, EHR-agnostic view of patient records.
One challenge facing Real World Data is "missingness", caused by important clinical attributes existing only in unstructured clinical notes and/or scanned documents.
This talk will focus on the challenges of extracting knowledge from unstructured data, CancerLinQ's efforts to date, and the opportunities for using Artificial Intelligence/Machine Learning to move from Real World Data to physician usable knowledge.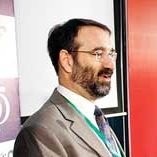 George A. Komatsoulis, Ph.D.
Chief of Bioinformatics at CancerLinQ
Dr. Komatsoulis is Chief of Bioinformatics at CancerLinQ, LLC, where he is responsible for ensuring the quality and completeness of all clinical data.
Prior to coming to CancerLinQ, Dr. Komatsoulis spent 12 years at the NIH, working at the National Cancer Institute and the National Center for Biotechnology Information. At the NIH, he spearheaded the development of innovative biomedical informatics capabilities including the NCI Cancer Genomics Cloud Pilots, the NIH Commons Credits Model, and semantic technology to support interoperability. From 1997 – 2004, Dr. Komatsoulis was a bioinformatics scientist at Human Genome Sciences, Inc.
He has a Ph.D. in Molecular Biology and Biochemistry from the California Institute of Technology and did post-doctoral work in the Department of Biochemistry at the Johns Hopkins University School of Medicine and the Department of Mathematics at the University of Southern California.