Bleeding edge applications of 2020 Transformers
We present two case studies in applications of NLP: one for the robot "Moxie" meant for children's emotional development, the other for the somewhat nebulous task of classification of award applications for leadership qualities.
Remarkably, some of this work uses general language models, frameworks, and even hardware only available in 2020 – thus highlighting the trend towards ever-shortening timescales between research and completed products.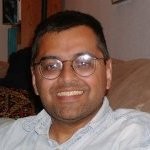 Kamal Ali is an NLP consultant with over 25 years of experience. His consulting clients include TiVo, Yahoo, and IBM.
His Ph.D. is on ensembles of relational classifiers and he has over 30 papers and 1000 citations in peer-reviewed journals and conferences.
He has done research at Stanford, IBM, and Yahoo. He is editor of a book on Machine Learning and Astronomy. His projects include Apple News, Yahoo search, and TiVo Recommendations engine. His latest project is on a conversational robot for children – Moxie.